Trailer:


___"The Ghost and Mr. Chicken"
(1966)__
Directed by:
Starring:
(Luther
Heggs
)Don Knotts
Tag Lines:
"G-G-GUARANTEED! YOU'LL BE SCARED UNTIL YOU LAUGH YOURSELF SILLY! "
"He's in the middle of a mystery. Without a clue."
"You'll be so scared - You'll laugh yourself silly!"
Now before I made this review I though long and hard about this review..I mean what is a review? Let me clarify this..Ghost and Mr. Chicken starring Don
Knotts
; who is most known for his work on the Andy Griffith show, and Threes Company; stars here in a rather old example of a horror comedy. While very light on the scares; this is a very funny comedy. Director Alan
Rafkin
, most known for working on Andy Griffith Show, M.A.S.H. and other old sitcoms, does a great job on this film. This is probably why
Knotts
is in the film as well. This being the second film I've seen
Knotts
do; the other being the Incredible Mr. Limpet, another great family film. Though being a Horror Comedy, its not the first; don't forget films like "Arsenic and Old Lace", Mad Monster Party, or if you want to put it up there with them; Blackbeard's Ghost(Which is great as well). I heard about this film first from a book of horror film posters I got. In one section on older movies they had a picture of the art. The poster is pretty cool showing a scared
Knotts
being attacked by a demented cartoon ghost. I learned more of it from my Dad who saw the movie when he was younger; and from the magazine Rue Morgue. We eventually got the DVD, and I really enjoyed the film.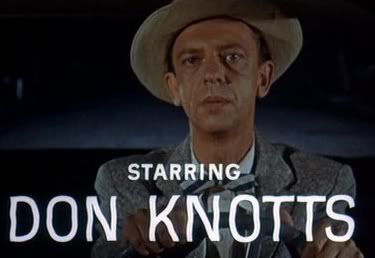 The movie is about a man named Luther
Higgs
(
Knotts
), a silly, goofy man who's just trying to get a break into journalism. He's got a thing for Alma Parker, who's going out with fellow journalist Ollie Weaver. Ollie Weaver is kinda mean to Luther and doesn't think much of him. After a big blunder early on the film he quickly becomes a laughing stock of the small town. Mr. Kelsey, Luther's friend who's a janitor at the news station. He gives him an idea of doing a story on the local legend of the town.The legend is about the Simmons family. The legend goes; 20 years ago Mr. Simmons killed his wife and then committed suicide. They say at midnight you can hear organ music from the mansion. I was really surprised at how dark it was for a family movie. Meanwhile the nephew of the family, Nicholas Simmons, is planning on destroying the old house. Luther gets talked into going into the house for a night. There he experiences crazy things. Organ playing by itself, thunder, head clippers stuck in the painting of Mrs. Simmons. The next day his story is put out, and everyone in town finds out about the incident. He quickly becomes a hero in the town. Along with that the wife of the president of the bank has forbid him to let Nicholas Simmons destroy it. This pisses him off and he then sues Luther and goes a mission to make him look like a fool.
The film is very warm hearted and you really get to like Luther. That's one thing the movie does very well is the fact that you really understand and like the characters very quickly. The jokes
arnt
over the top and cheesy, its all just right. Even the running joke "
Atta
boy, Luther!" got me laughing each time. There is no really annoying character, I enjoyed them all. Don
Knott's
was really fun. He wasn't very one dimensional, the character wasn't just some coward. I mean when scared, Luther pulls out some bad ass
Kung
fu
moves. "That's right, karate... made my whole body a weapon." Yes, that's right Don
Knott's
knows
Kung
Fu
. Awesome. I
dont
really want to give away too much of the story because it has a twist ending that is pretty good. The music, especially the the organ theme I enjoyed a lot.
So if your a fan of Horror comedies you should check it out. While not too full of scares, it wont disappoint. So in conclusion
Atta
' boy
Knotts
!
Overall:
Scares:2/5
Gore:1/5 There is a little bit of blood when the painting is hit by the hedge clippers
Humor:4/5
Best Scene: Don's speech and him busting some
kung fu