Directed, Starring and Written by:

Hal P. Warren
"A Cult Of Weird; Horrible People Who Gather Beautiful Women Only To Deface Them With A Burning Hand!"
Ah were getting pretty low now, "
Manos
: the Hands Of Fate". You might know this movie from the great show Mystery Science Theater 3000, and is probably my favorite episode. Ive seen it a lot, being a big fan of the Bots and Joel/Mike, But never have I seen it without their help, and now I really do know, the horror..that is..
Manos
.
Like I said I didn't see the MST3k version for this review, just uncensored, raw
Manos
. Not just once, but multiple times. The reasoning is I did one a while ago on another site before that sucked so I
rewatched
it to get a feel for the movie, for the rewrite. Then that got deleted when I had to reformat my computer. Later on I took another stab and watched it again and started this review, but never finished it until now..So since I'm finishing it, I had to watch it AGAIN. So Ive seen this 4 times and each time I see it it gets a little easier, doesn't keep it from sucking though.
The term "Worst Movie Ever" is used by pretty much everyone, and is really a opinion based statement. It might seem horrible to some, but good to others. A lot of people consider this movie the worst movie ever made, and that's probably untrue. There is probably some movie out there worse then this. There is truth to it though, this movie is fucking terrible, but not worst. I mean this movie has a lot of things going against it. Horrible editing, ultra low budget, obvious dubbing, horrible, Horrible acting, and that's just some of the problems. There are multiple pointless scenes, many with
Torgo
. One in particular is before they enter the lodge, Micheal and his family just stand there doing nothing, with no music playing just looking around. This goes on till Micheal's daughter Debbie runs up and yells "I'M COLD".
I also want to go over the poster art for a minute. The first thing you probably will see is the sentence "ITS SHOCKING! Its Beyond your imagination!". Then the thing that confuses me..the bottom it says "No One Seated The Last 10 Minutes". Whats that even mean? "No One Seated", does that mean like..No one could sit through the last 10 minutes of the film. Or does it mean they dare you to watch the last 10 minutes? It then goes on to say "We Defy You To Guess The Ending...And Ask You Not To Divulge It". This movie really takes itself seriously.
Now before anything I had to know more about this film. so first off I did a search of the Director Hal P. Warren. Hal P. Warren Apparently was a fertilizer salesman. The movie came into being threw a bet with a man named Stirling
Silliphant
. Now Stirling
Silliphant
wrote such movies like Village Of The Damned, The Enforcer, and even worked on Shaft In Africa. Hes also worked on many more movies. The bet was that Hal could make a successful Horror Film with very limited Budget. Because it worked so well for Ed Wood. Warren then wrote
Manos
and filmed it in El
Paso
Texas under the working title "
The Lodge of Sins".
During the filming of the movie, The other actors got pretty hostile around Warren and even nicknamed the movie "Mango's: The Cans Of Fruit". Which I would like to see more then
Manos
in my opinion. We need more movies about Killer plants. The movie was also shot on a hand cranked camera, which couldn't catch sound, so it had to be dubbed in later. The Camera also could only record thirty-two seconds of film. Early on a actress had broken her leg, so Warren rewrote her character to be constantly making out in a car. When they premiered it, the movie got booed and heckled to death. Warren even said that he felt "
Manos
" was the worst film ever made, but still was proud of it. So technically Warren did win the bet, even though the film tanked. That didn't stop Warren who went on to write sequels to
Manos
, and a script called Wild Desert Bikers, which he tried to turn into a book called "Satan Rides A Bike". Warren wrote, produced and starred in
Manos
as Micheal. Mr. Warren died in 1985.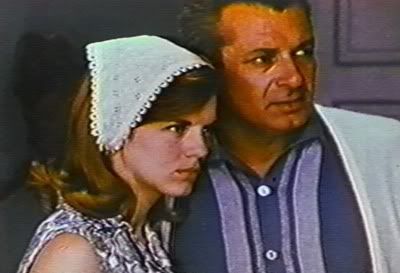 There is also a documentary on YouTube Called "Hotel
Torgo
". Which is a documentary about the making of the film, which is actually pretty good, and even finds one of the actors and interviews him. You can see it here:
http://www.youtube.com/watch?v=sLYIUF4yXqA
Okay after that little history lesson, lets get to the film itself. First off,
Manos
: The Hands Of Fate, why is it called
Manos
: The Hands Of Fate? I mean it literally means Hands: The Hands Of Fate. Oh and if you forgot about this movie, it reminds you with a barrage of hands, from the Master's hand robe, to
Torgo's
hand staff.
Theres
even a bunch of hand sculptures coming out from the fire place. The movie starts with a family driving, then pulling over for some reason. Debbie then yells how shes Cold. First thing I thought when I heard it was, why does the girl sound horrible, doesn't even sound like a little girl, it sounds like someone trying to sound like a little girl. And she really doesn't give much to the movie, all she does is bitch about how cold it is throughout the whole movie. Any who, the family is consisted of Mike(The Father)Debbie(The Daughter) Margaret(Mom) and Peppy their dog. The first thing you notice when watching this, is how horrible it looks. It just looks bad, and the sound is just horrifyingly bad.
Lets talk a little bit about the music. Well I'm not sure how this person even got music in the movie. I kinda expected it to go the "Black Devil Doll From Hell" route and have the music be that automatic beat that you get from keyboards. Well I'm kinda ashamed to say..I like the music. Yes the music is really cheesy Lounge type music, but something about it I dig. Ive actually tried to get the music off this movie, but that's nearly impossible. But I was lucky enough to get the song "Forgetting You" on the play list at the bottom there. My favorite song is probably "Inside The Magic Circle", Mainly for the fact its the least horrible. The worst probably the
Torgo
theme. Which is used to death every god damn time you see
Torgo
.
The movie also cut to this couple making out in a car randomly through out the film. These scenes are the equivalent to this one scene in Demons. Where, while all this mayhem is happening inside the Theater, they keep cutting to this group of punks in a car who snort coke from a can. Why show that? Was it needed?
No.
Was it entertaining?
Slightly..
Mike gets lost out in the dessert, and they come upon a strange looking lodge out in the middle of no where. There they meet
Torgo
. Let me give you some insight on
Torgo
, Hes fucking nuts! I mean just look at him, he looks like he bathes in liquor, and hes just plain dirty looking. Another thing that becomes pretty obvious about
Torgo
is the fact he has gigantic..thighs? Well since his legs are swelled up to the size of watermelons, that's probably the reason he
strumbles
(Strut + bumbles) around with his black staff with a hand on the top of it.
Torgo's
boss is the Master, the leader of this Cult who looks like demented Frank Zappa. The Master dresses in a big robe with Hands painted on it. They ask where the Valley Lodge is and
Torgo
answers with "There is no way out of here. It'll be dark soon. There is no way out of here." Which you can say is
Torgo
Foreshadowing the upcoming horrors awaiting the family who has, you can say just fallen down the rabbit hole. Mike decides they should stay the night there with
Torgo
. In the lodge a strange painting of the Master and a evil dog are displayed on the wall.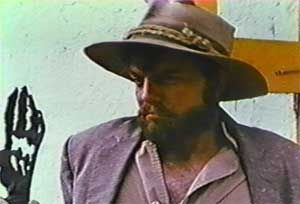 That night Peppy is killed by some kind of animal. Margret who is one of the biggest whiners Ive ever seen in a movie constantly yells how she wants to leave the lodge. Mike decides to leave only to find his car broke down mysteriously. Margret disgruntled by the current happenings is comforted by
Torgo
. If you can call drunkenly molesting her hair with his hand Comforting. This scene is just weird in all the wrong ways.
Torgo
tells Margret that even though she is doomed to be a bride of the master's, being the ladies man he is, he wants her for himself.
Debbie decides to go look for Peppy outside and leaves the lodge. Her parents scared go to look for her, and find her leading the evil dog in the painting of the Master. Debbie shows them a tomb-like area where The Master and several women dressed in night gowns are. These women are actually the Master's wives who are just asleep. The family runs back to the house, and Mike goes to ask some questions to
Torgo
.
Torgo
though has gone to the tomb himself. There he gropes the wives and insults the sleeping Master. He also knocks out Michael, tying him to a pole. The Master and the wives awaken to argue over what they should do to the family. They all agree on not killing the family, and decide to kill
Torgo
and the first wife. The sacrifice is to honor their god called "
Manos
". At this point I'm kinda confused as to whats happening..One of the wives gets away and kisses Mike, only to then slap him and tell the master about a fight happening in the Tomb. This leads to a long fight scene where the wives all fight each other. The Master stops them and then they..grab
Torgo
.
Torgo
hurt but not dead is then given the final blow by the master who sets his hand on fire.
Torgo
disappears into the darkness to never be seen again. If that isn't enough he also takes out the first wife.
Mike wakes up, gets his family and
trys
to escape, only to be confronted by stock footage of a snake. Mike shoots it, which alarms police near by. They decide to investigate..and by investigate I mean they walk up a little bit look out and then leave. Micheal and his family then hide in one of the rooms, where the master appears and confronts them. Micheal then shoots the master a few times and the screen fades into black. Then it goes to two girls in a car who drive up to be greeted by Micheal, who has assumed the job
Torgo
had. Then it shows Margret and Debbie adorned in night gowns along with the other wives. The credits start and the movie even has the nerve of throwing in a "The End?" ending.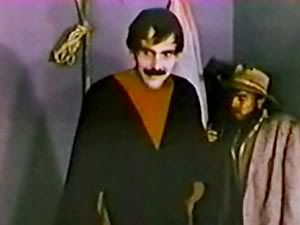 This movie literally survived mainly threw word of mouth and a few catalogs.

That's

probably how the mystery Science Theater People found it. They themselves consider this to be the worst film they have ever seen, and it is constantly

referenced

in episodes of MST3k. Really it is up there, its a terrible film. But I do have to give it to Warren for making a film, and in a strange way it did become popular, just not in the way he wanted it to. The movie has even inspired a musical called "

Manos

: Rock Opera of Fate

", which I really cant find too much on, besides a few videos. If your a film buff you probably would want to see this film, or just if your a B-Movie fan like myself. The film does take its toll a bit on the viewer, but is hilarious in all the wrong reasons.

Overall:

Acting:2/5

(Two because of

Torgo

)

Cheese:5/5

Gore:1/5

Music:3/5

Best Scene:

Torgo

fondling Margret's hair.

2 out of 5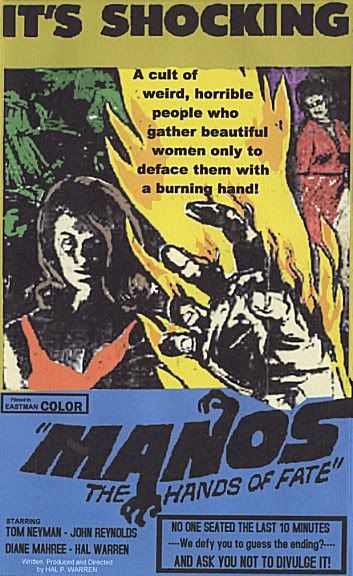 Trivia:
Quentin
Tarantino
owns one of the only 35mm copies of the film left in existence. He calls it his favorite "comedy" of all time.
Torgo
was originally named Igor.
Quote
:
" Dead? No, madam. Not dead the way you know it. He is with us always. Not dead the way you know it. He is with us always."
"Your power fails you!"
"
Manos
, God of primal darkness. As thou has decreed so have I done. The hands of fate have doomed this man. Thy will is done."
"Kill! Kill! Kill!
Manos
has decreed it. Kill! Kill! Kill!"