Trailer:
_____"Death Race 2000"(1975)____
Directed by: Paul Bartel
Starring:
(Frankenstein)David
Carradine
(Annie Smith)Simone
Griffeth
("Machine-Gun" Joe
Viterbo
)Sylvester Stallone
Tag lines:
"Across the town the traffic is MURDER"
"A Cross Country Road Wreck!"
"In The Year 2000 Hit And Run Driving Is No Longer A Felony. It's The National Sport!"
I always love films that are set in the future, and its a year that has already passed, and its nothing like the movie at all..But it is fiction, so they could have had dinosaurs running around and it wouldn't matter any. One of my favorite B-Movies, and favorite Race movies, Death Race 2000 has a great cast of the late David
Carradine
as the great Frankenstein, and Sylvester Stallone in a really early role, as surprisingly a bad guy. This being Stallone's 8
th
movie, his first being the infamous porno "The Party at Kitty and Stud's" or "The Italian Stallion"...Yeah well get to that one another day lets just keep on Death Race.
This low budget
Carsplotation
film got some bad ratings from people like Roger Ebert who actually Gave it 0 stars. But that's from the guy who didn't like Blue Velvet. I first came across this movie from my father, who says its one of his favorite movies of all time, and had a VHS copy that was part of a Roger
Corman
collection. Though
Corman
didn't write or Direct, he did Produce it.
As of right now, I don't know if there is a actual DVD out for it. Amazon carries it also, as part of a Roger
Corman
Collection. I got my copy from the dollar bin in a Pharmacy in a pretty shady looking box that looks like those dollar store double feature movie cases. The quality is good, sounds good, could be better, but it is a cheap DVD. Only problem I had with it is it kept taking me to the Scene selection after each Chapter..Not that big of a problem though.
So lets get to the movie, its the year 2000, in a strange world where the United States has been destroyed by a financial crisis and has regrouped itself into a strange sort of dictatorship called the United Provinces, which is ruled by their leader Mr. President. In this world, there is a annual race called the Transcontinental Road Race, which is used at a kind of gladiatorial entertainment. The Coast To Coast race is 3 days long, and is broadcast on the TV. The object of the race is to kill as many people as you can, which gets you points, and eventually be the first to cross the finish line alive.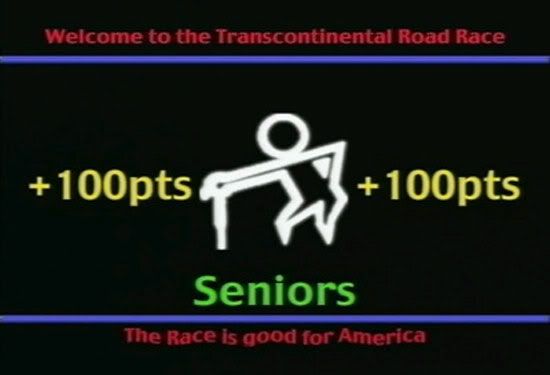 Photobucket" border="0">
The Racers are:
Nero The Hero, who resembles a Roman leader, with his navigator Cleopatra. His car is made to look like a Tiger, and is the first to get killed(is exploded).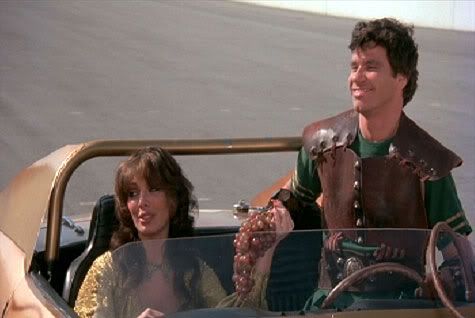 Photobucket" border="0">
Matilda The Hun, a Nazi SS Type who's Navigator is Fritz, who kinda resembles
Rick

Moranis

. Her car looks like a V-1 flying bomb. She is the 2

nd

to get killed when she drives off a cliff and Explodes.

Photobucket" border="0">

Machine Gun Joe

Viterbo

(
Sylvester Stallone
), who's just a big asshole. His car is tricked out with machine guns and a big blade coming out from the middle of the hood. Hes the villain pretty much in the movie, and hates Frankenstein for being more popular then him. Joe doesn't really have any morals and really will kick any ones ass, even his navigator. In the first scene he's in he guns down a bunch of Frankenstein's fans. He is the last to get killed, Frankenstein blows him up with his hand grenade.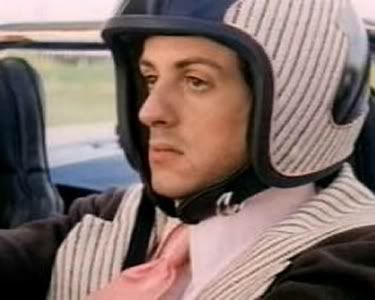 Photobucket" border="0">

Calamity Jane, a Cowgirl who is one of the longest to live. Her Navigator is killed by Matilda. Her Car is made to look like a Bull. She is also killed threw explosion.

Photobucket" border="0">

And last our Hero, Frankenstein(David

Carradine

). The longest living survivor of the Race, hero, and friend of Mr. President himself. Injured threw out the years in each race, you find that Frankenstein actually died, and is replaced by new Frankensteins, and he is actually the most recent one. He wears a mask with fake burn scars. He also has been equipped with a new hand, that is a grenade that he was gonna use to kill Mr. President. His Navigator is
Annie Smith, who is secretly working for the Resistance, a group of vigilantes working toward freeing the people from the Evil Mr. President. Her job is to kidnap Frankenstein, but eventually falls in love with him and he end up helping her bring him down.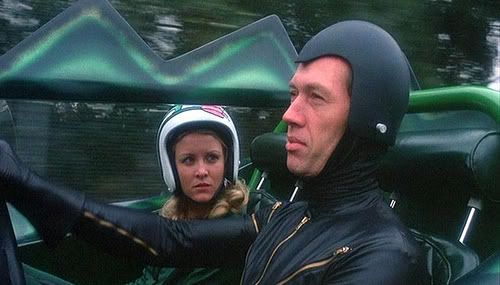 Photobucket" border="0">
The movie ends with Frankenstein killing Mr. President, taking charge and marrying Annie. He also stops the races, and drives off running over the narrator of the races while he goes.
The movie is just tons of fun with great acting by Stallone and
Carradine
. This being the first film I've seen Stallone actually being the bad guy.
Carradine
also makes Frankenstein the bad ass he is. The cars look great and apparently according to
Corman
the cars were actually re-bodied
VWs
and a few were sold after the film to museums for more than it cost to make them. My favorite probably being Frankenstein's. If you can get your hands on this Cult Classic, you wont be
disappointed
.
Now the movie was remade not too long ago, but I have yet to see it..and frankly
don't
wanna. By the looks of it they really changed the story, the themed characters, and just got rid of what made Death Race a great movie.
Overall:
Gore 4/5 One guy gets run over, then the car skids out on his head
Nudity 3/5 a good
amount
Explosions 5/5
theres
so many explosions in this movie
Best Scene: The Hand
Grenade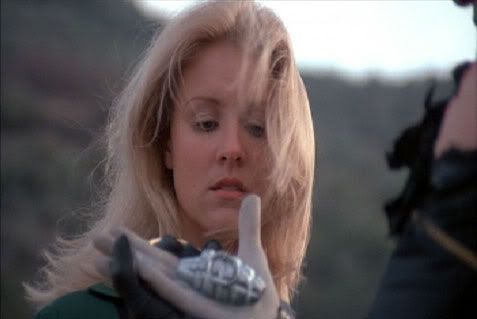 Photobucket" border="0">
4 out of 5
Photobucket" border="0">



Quotes

:

"You want to make love to me because I drive the Monster and wear this costume."
Posters:
Photobucket" border="0">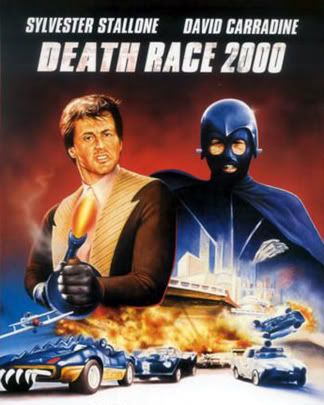 Photobucket" border="0">
Photobucket" border="0">