Now this is a little weird to talk about, because its not a movie, or a game, but it definitively is on the level of what I talk about here..
Deadbolt
(formed in 1987) is a rock/Surf/Shockabilly band from San Diego, California. They are the self proclaimed "Scariest Band in the World". The band also often features two bass players who are called "The Wall of Thunder."
Ive been a long time fan of Deadbolt after hearing their album "Shrunken Head". After hearing the first song I was hooked, it was a weird blend of surf music, with weird story telling and lots of humor. The bands members are:
Harley Davidson(Singer)
Gary "Third Degree" Burns(Bassist)
R.A. McLean(Bassist)
Bad Time Charlie(Drummer)
Former members of the band include:
The Phantom(Bass and Guitar)
Tank Johnson(Drums)
Claymore Mines(Bass)
The Coroner(Bass)
Coffin Boy(Bass)
Moose Cutter(Bass)
Vocalist/guitarist Diana Death occasionally plays with them.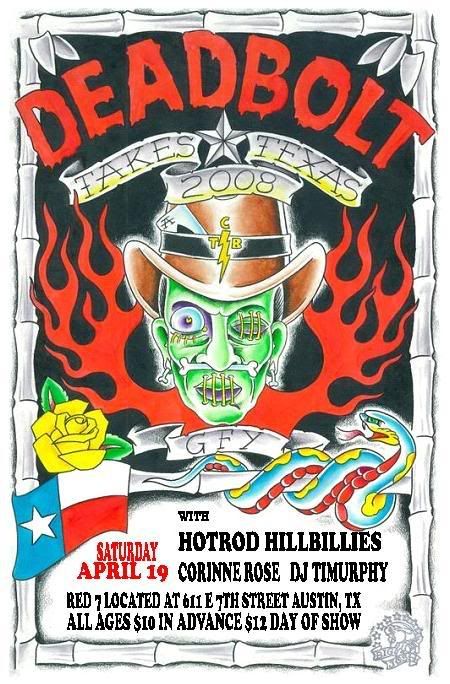 The band originally formed in 1987 as a trio featuring guitarist and vocalist Harley Davidson, bassist and vocalist Robert "RA" MacLean and drummer Les Vegas. Vegas eventually left the band. Vegas' departure is told in the song "Po' Boy" on the album "Hobo Babylon". Deadbolt's music combines surf rock, goth, psychobilly and blues with unusual, humorous and offbeat lyrics, a style the band calls " Voodoobilly."
They're songs are very quirky, and strange with songs like "The Store That Cannot Be Named" about a store called "Store", or the song "The Mocker" about a guy who mocks people over truck radios. Deadbolt also have reappearing characters in their songs like Patches The Clown, who's a violent, homicidal Clown, and the Post Office songs about people going crazy in the post office..
The band is known for its use of power tools during their live performances, and it is customary to be showered with sparks of red-hot metal during their live shows. The band has a total of 7 CDs and still plays.
CDs and Cassettes:
Shrunken Head
(1993)
1.Shrunken Head
2.Down in the Lab
3.El Sadistico
4.Voodoo Doll
5.Hank Watson Stalks the Earth
6.Zip Code
7.You Don't Know Me
8.Slap
9.The Store That Cannot Be Named
10.Blue Light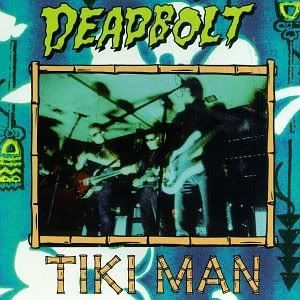 Tiki Man
(1994)
1.Scare Me
2.Voodoobilly Man
3.Who the Hell Is Mrs. Valdez?
4.Tiki Man
5.Insecto
6.Patches the Clown
7.Twang Zombie
8.Channel 5
9.The Meat
10.Mambo Room
11.Chuty's House of Beer
12.Cockeye
13.The Lucy Joke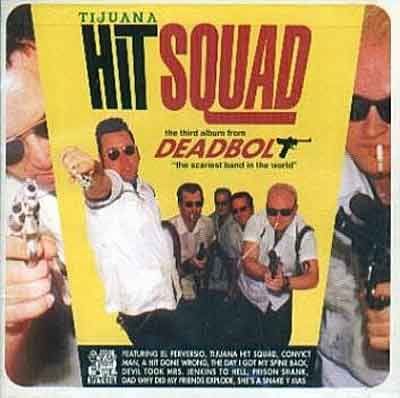 Tijuana Hit Squad
(1996)
1.El Perversio
2.Tijuana Hit Squad
3.Convict Man
4.A Hit Gone Wrong
5.You're Just Like Me
6.I Remember You
7.Conductor
8.Last Time I Saw Cole
9.The Day I Got My Spine Back
10.Devil Took Mrs. Jenkins to Hell
11.She's a Snake
12.Going to Witchata
13.Prison Shank
14.The Interview
15.Dad Why Did My Friends Explode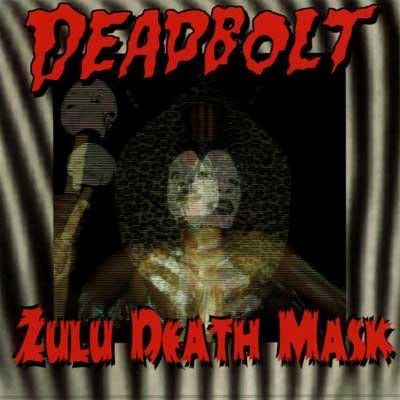 Zulu Death Mask
(1998)
1.15 Year Search
2.Macombo's Revenge
3.Jackals Of Botswana
4.Watongo
5.Zulu Death Mask
6.She's Gone Gongwipdu
7.Jimmie's Grave
8.Swahili Bob
9.Burn, Lil' Debby, Burn
10.Creepy And Weird
11.Return Of Patches
12.October In Zimbabwe
13.Crime Scene
14.Mogimbu
15.It's A Creepy World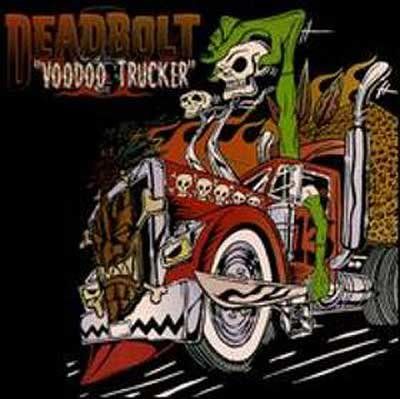 Voodoo Trucker
(2000)
1.Billy's Dead
2.Voodoo Trucker
3.Truck Driving SOB
4.Red Cooley
5.Voodoo Curse
6.McGortsy
7.Blacktop Fever
8.Whereabouts Unknown
9.What Can I Do?
10.Roadside Cross
11.The Mocker
12.The Mocker
13.Lone Highway
14.Trucker's Rumble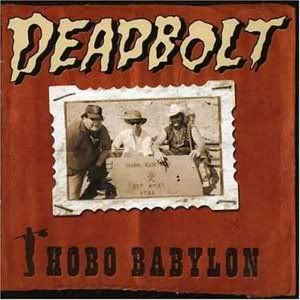 Hobo Babylon
(2002)
1.She Walks With the Dead
2.Hobo Babylon
3.One Day I Will Kill You
4.It Was You
5.Bitch Tried to Kill Me
6.Creep Me
7.Come on and Get It
8.Po' Boy
9.Big Man Makes a Fool of You
10.Patches Rides the Rail
11.Drunk Guy on the Train
12.Who Whacked Paully
13.The Hearse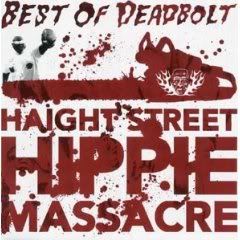 Best Of Deadbolt:Haight Street Hippie Massacre
(2003)
I Should Have Killed You
(2005)
1.I Should Have Killed You
2.Scary Voodoo Girl
3.Telephone The Dead
4.When The Lights Come On
5.Hell Dorado
6.Spot Where They Gunned Him Down
7.Every Minute Of The Day
8.She Ran Away
9.El Segundo
10.Tell Me Where He Lies
11.Big John
12.Fright Wig
Deadbolt - Mrs. Valdez
Deadbolt - You Dont Scare Me
Deadbolt - It Was You
Website:
http://www.downinthelab.com/